Product Description
2U dual-socket server powered by 3rd Gen Intel Xeon Scalable processors that supports up to 32 DIMMs, four dual-slot GPUs, eight NVMe, nine PCIe 4.0 slots, OCP 3.0, dual M.2 and ASUS ASMB10-iKVM.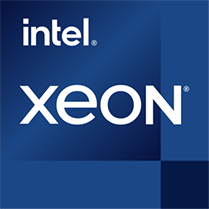 KEY FEATURES
Powered by dual-socket 3rd Gen Intel Scalable processors, 32 DIMMs and support for a maximum TDP of up to 270 W per socket
Optional GPU-optimized design allows four dual-slot GPUs for AI workloads
Up to four all-flash NVMe, four NVMe/SATA/SAS and four SATA/SAS drives on front panel, plus 2 optional NVMe in rear panel to enable extensive storage and high-throughput performance
Up to nine PCIe® 4.0 slots to enable higher bandwidth and improved data-transfer rates
Flexible onboard LAN-module design to enable four 1 Gb LAN or two 10 Gb LAN options
Flexible air- and liquid-cooling solution to achieve lower power-usage effectiveness (PUE) and optimized TCO for data centers
Onboard ASUS ASMB10-iKVM for out-of-band management with ASPEED AST2600 controller
Integrated PFR FPGA as the platform Root-of-Trust solution for firmware resiliency
High power efficiency with redundant 2400W/1600W 80 Plus® Platinum power supplies

Four Dual-slot GPUs Support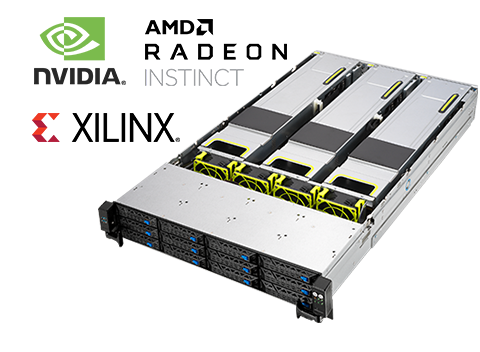 ASUS RS720-E10 servers feature a powerful GPU architecture that supports up to four dual-slot GPUs such as NVIDIA A100 in one 2U system to enable easy scale-up in order to meet the demands of AI and high-performance computing (HPC), and to securely run workloads in virtualized environments.

ASUS RS720-E10 series are Xilinx Alveo-qualified servers to provide optimized acceleration for workloads across cloud and on-premises data centers, and for hybrid cloud environments in financial computing, machine learning, computational storage, and data search and analytics.
CPU-balanced Architecture
The new 3rd Gen Intel® Xeon® Scalable Processors excel at providing full features and functionality for both dual-socket and single-socket platforms, but our new servers ASUS is introducing an CPU-balanced architecture to enable secure and optimal CPU-performance efficiency.

This architecture extends the full bandwidth to either dual- or single-CPU configurations, enabling more computing capability and much-improved overall power efficiency for compute-intensive workloads. This architecture allows customers to take full advantage of bandwidth capabilities of the dual-CPU architecture with a single CPU, while offering the flexibility to upgrade later with the addition of a second CPU.
Terms of Reference
Custom Field
Product Reviews
You May Also Like...