Product Description
Transcend's DrivePro Body 70 body camera features a compact camera unit tethered to a control unit, allowing for a wide variety of attachment options. Tailor-made for law enforcement and security departments, the rugged and highly responsive DrivePro Body 70 allows 2K QHD 1440P evidence collection and wireless data previews and transfers.
Capture Clear Evidence
The DrivePro Body 70 features a high-sensitivity image sensor to capture high-resolution images and 2K QHD 1440P video with superb, rich color even in low light. Images are highly detailed with low noise and excellent balance between light and dark areas, supporting law enforcement personnel in the field with gathering critical evidence.
Mounting Flexibility: Tethered Camera Unit
The DrivePro Body 70 is composed of a control unit with a separate compact camera. Users can choose either a Velcro holder or a rotatable clip to securely mount the camera unit on military vests, making it a solid choice for filming in the dynamic environments public safety officers work in every day.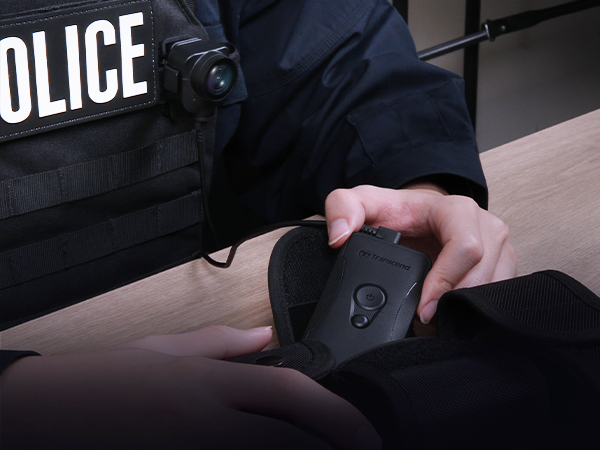 Rugged and Durable Design
The DrivePro Body 70 is built to withstand harsh environmental conditions, making it ideal for outdoor patrol. It is IP68 rated, offering full protection against dust and water. It also meets rigorous MIL-STD-810G 516.6 US military drop-test standards for shock resistance.
Note: The DrivePro Body 70 was tested under controlled laboratory conditions and given a rating of IP68 under IEC standard 60529. Splash, water, and dust resistance are not permanent conditions and resistance may decrease as a result of normal wear. Product must be clean and dry before use. Liquid damage not covered under warranty.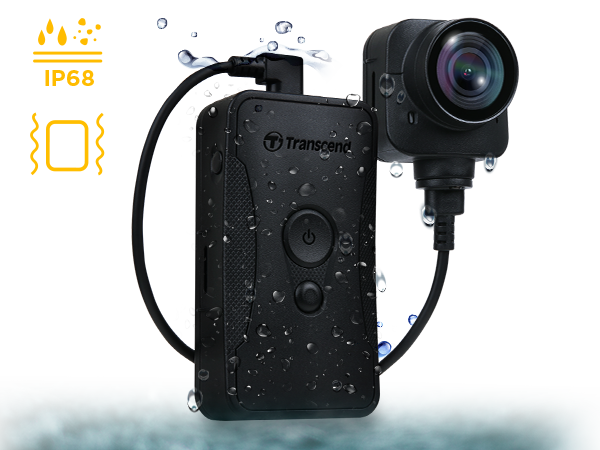 Full-Shift Battery Life
The DrivePro Body 70 comes with a high-capacity Li-Polymer battery, allowing up to 9 hours of recording on a single charge. This allows police and other professionals to record over a full shift.
Note: Battery life may vary based on environmental conditions and operation settings.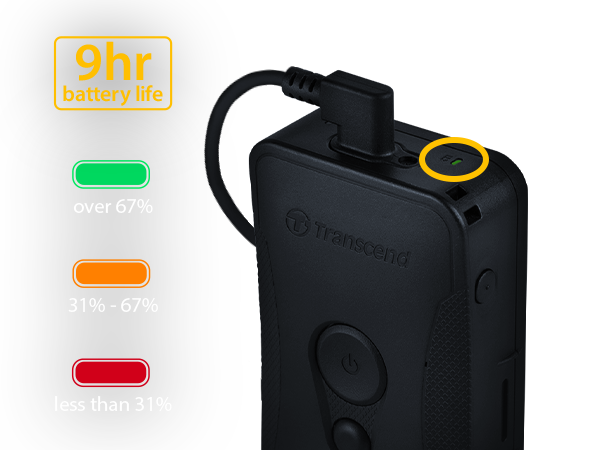 Capacious Storage
The DrivePro Body 70 has 64GB storage built in, enough to store up to 13 hours of 2K QHD 1440P video, and a pre-event buffer, which can hold up to 2 minutes of video.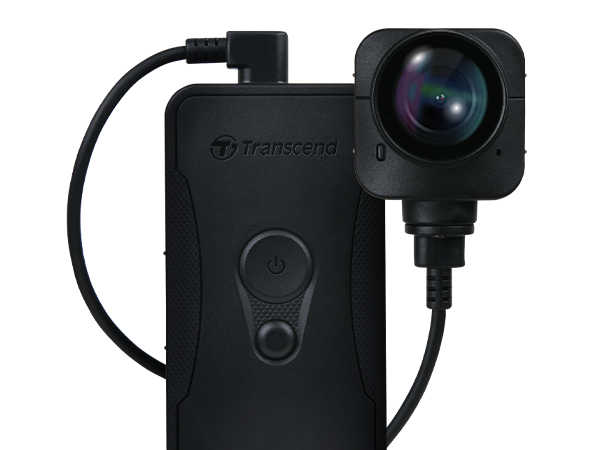 GPS Tracking
The DrivePro Body 70 has a built-in GPS receiver for geotagging videos and images. With the exclusive DrivePro Body Toolbox, users can view their route on a map display during video playback, making it easy to establish when and where an event occurred.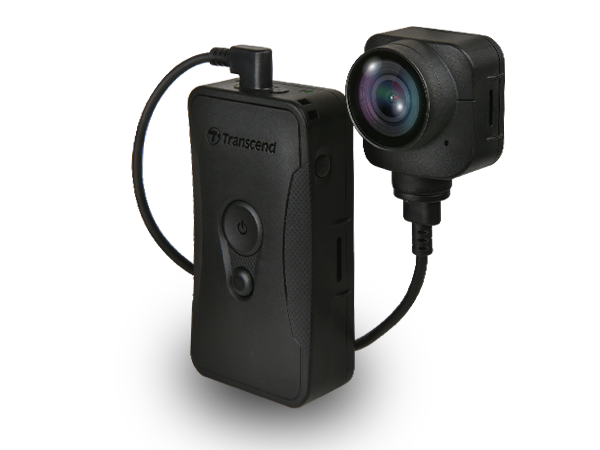 DrivePro Body Toolbox
Transcend's DrivePro Body Toolbox is a user-friendly utility for the DrivePro Body series, allowing users to securely manage recorded videos and snapshots on Windows PCs. Users can adjust settings for both the Toolbox and the DrivePro Body device, format the internal storage, and upgrade the body camera's firmware via the software. DrivePro Body Toolbox offers the smart detection feature, which can detect the most common objects in a video, such as faces. The Toolbox will automatically identify the faces that appear in a video and allow users to blur or block them out.
Learn more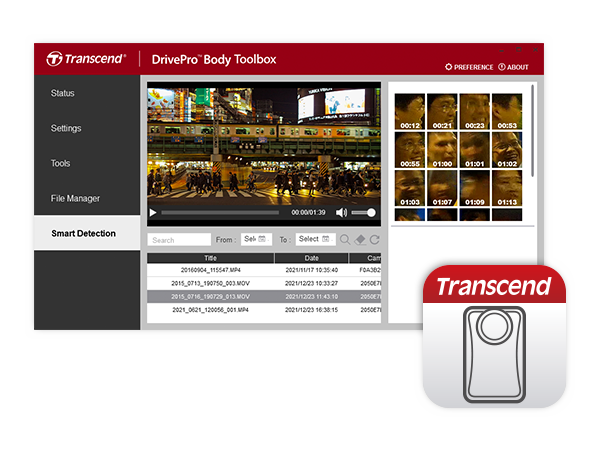 Multifunctional Docking Station
Exclusively designed for the DrivePro Body 70, Transcend's TS-DPD6N docking station offers a complete camera management, charging, and data upload solution. The six-port docking station has two Ethernet ports, a LAN port for administrative setup, and a WAN port for simultaneous data upload while charging.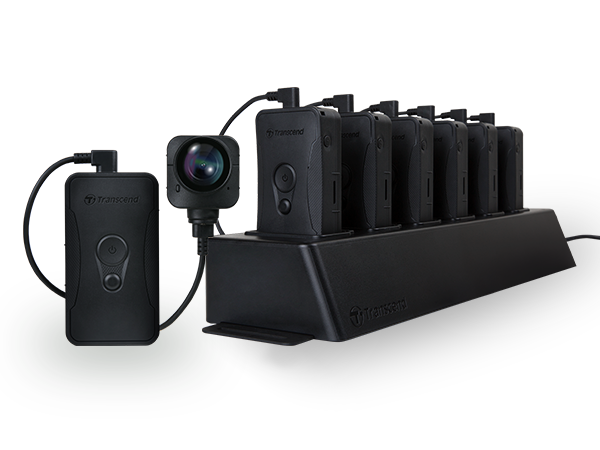 Available Accessories
The DrivePro Body 70 comes with all accessories needed for deploying the main unit and the camera unit. Transcend also provides a wide range of accessories for separate purchase, including a 360° rotating clip, a Velcro holder, a magnetic mount, and a MOLLE mount.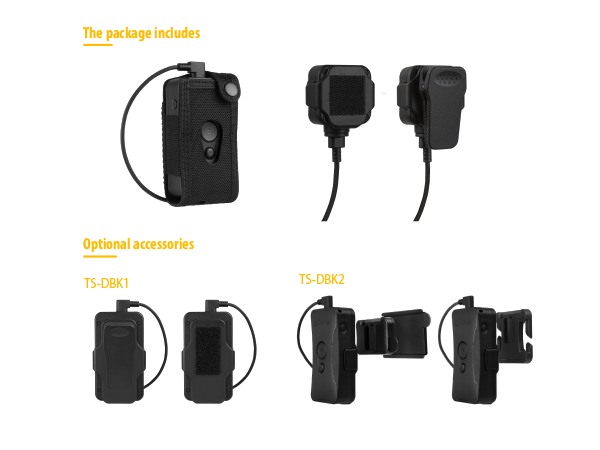 Specifications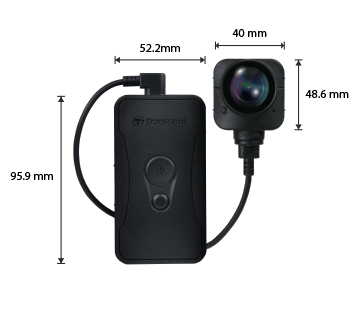 Appearance

Dimensions

95.9 mm x 52.2 mm x 24.9 mm (3.78" x 2.06" x 0.98")

Camera Dimensions

48.6 mm x 40 mm x 31.7 mm (1.91" x 1.57" x 1.25")

Weight

184 g (6.5 oz)

Interface

USB Type

Connection Interface

Wi-Fi Protocol
Frequency
2.4 GHz

Storage

Capacity

Hardware

Viewing Angle
140° (diagonal)
Aperture
F/2.0

Power

Battery Life (Max.)
9 hour(s)
Power Supply (Max.)

Input: AC 100V-240V, 50-60Hz, 0.4A
Output: DC 5V / 2A

Note

Battery life and charge cycles vary by use, network settings such as Bluetooth and Wi-Fi, and other environmental factors; actual results will vary.

Format

Resolution
Frame Rate
30 fps

Video Format

Operating Environment

Operating Temperature
-20°C (-4°F) ~ 60°C (140°F)
Storage Temperature
-25°C (-13°F) ~ 70°C (158°F)
IP Rating
IP68

Warranty

Certificate

CE

/

FCC

/

BSMI

/

NCC

/

MIC

/

KC

/

EAC

/

UKCA

Package

Package Contents

Full unit

/

3.5mm to USB cable

/

Adapter

/

Velcro holder

/

Belt pouch

/

Clip mount

System Requirement

Operating System

Microsoft Windows 10 or later
macOS 10.14 or later
Terms of Reference
Product Videos
Custom Field
Product Reviews
You May Also Like...